Classical Styling
5th Nov 2018
Traditional interiors feature classical designs with a European influence. Think sumptuous furnishings, ornate accessories & stunning hand carved timber. We've asked our Interior Designer, Maryann Vernon for advice on where to start & how to create that magnificent old world feel.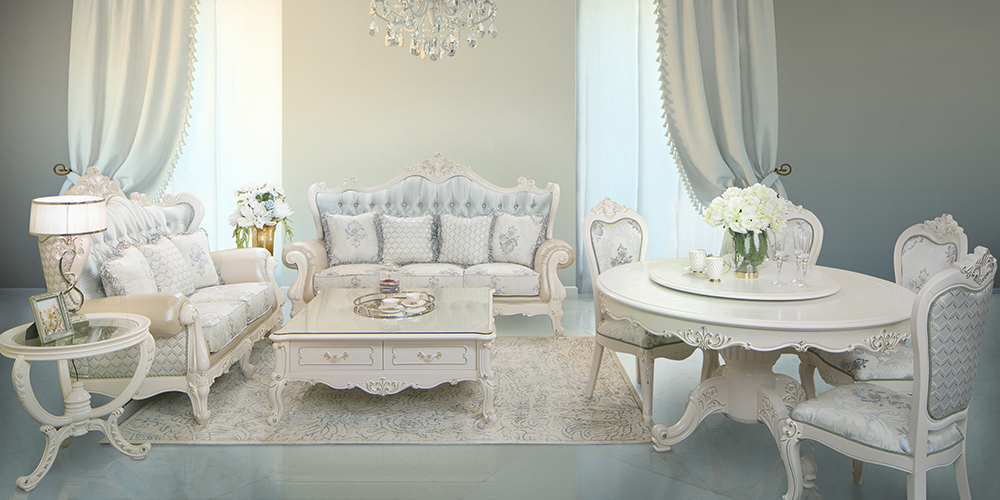 "I love styling traditional interiors because they have such a luxurious & timeless feel." — Maryann Vernon
Colour
When creating a classical interior, firstly consider your colour palette. If your space features creamy walls & soft carpet, you may select a pastel colour palette e.g. ivory, duck egg blue & mint green — similar to our Antoinette lounge & dining range. Alternatively, in a space with timber flooring or traditional timber staircases, embrace the rich hues of the space with polished timber furniture & contrast with deep red & gold accents — as seen in the Beethoven living & dining range.
Whichever colour palette you choose, make sure that all elements of the room, including flooring, fixtures, furniture, upholstery & accessories are all coordinated to achieve the effect you are striving for.
Furniture
Classical interiors usually call for ornate furnishings with elaborate carving and emphasis on motifs and signature looks. Our traditional furniture ranges are handcrafted by skilled artisans from a combination of timbers, including American birch timber, burr-walnut & ebony. Note the detailed inlays & carved edges, which set these ranges apart from modern, mass-produced furniture. High quality leather accents will suit the look beautifully, for example Chesterfield lounges or leather ottomans.
Layering of texture are also essential. Brocade fabrics, tassels, fringing & florals are ideal for upholstered lounges & dining chairs. A combination of thick drapery & sheers will complement the furniture & create an intimate mood in the space.
Decor & Accessories
Lamps with silk shades, wall sconces & floor lamps may be incorporated into your decor & dimmable bulbs will allow you to alter the mood of the room in accordance with the time of day or occasion. Chandeliers also create an opulent appearance, especially in spaces with high ceilings.
Display cabinets are a great way to show off collectables such as fine china & glassware or porcelain or crystal ornaments. And photo frames will add a personal touch to your living space.
Adorn your walls with classical framed prints with botanical or portrait motifs & open up your space with a stunning gilded mirror.
Our top picks for achieving the Antoinette look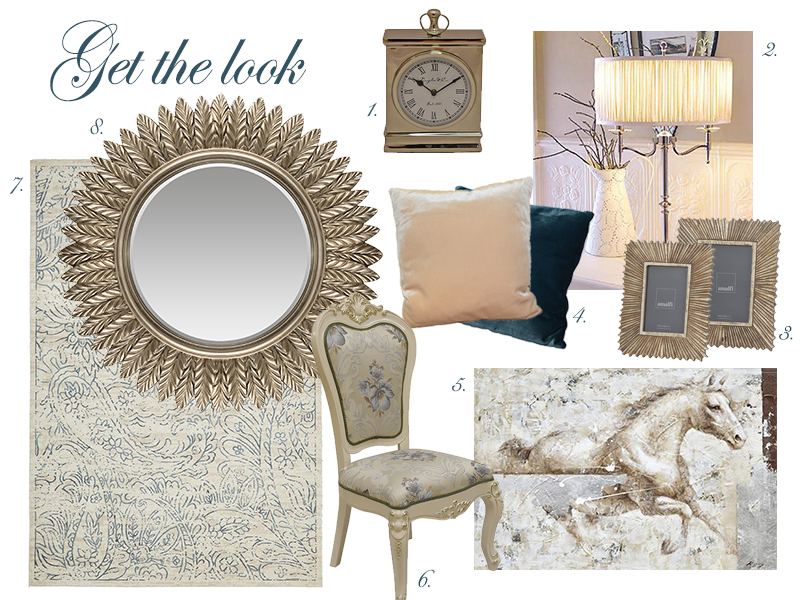 Mantle clock - $109
Stanford 2 light table lamp - $419
Chandi photo frame - $29.99
Kensington cushions - $39.99
Arion oil on canvas - $179
Antoinette dining chair - $429
City 576 blue rug - $179
Apollo mirror - $249