Autumn Styling
1st Apr 2020
Our Interior Designer, Maryann Vernon, talks Autumn looks.
Autumn is a generally a time of change & evolution, but this one feels a little different. We had goals for Autumn, we had dreams & hopes, ideas & inspiration. And then COVID happened... Thanks 2020!
But for many of us now stuck inside & with extra time on our hands, this may be the perfect opportunity to seek out inspiration & address your interiors. This doesn't have to be about making radical or expensive changes, sometimes it's the small things that make a big difference. Those sofa cushions that are looking a little worn & dirty. That blank wall in your bedroom that you never found the right piece for & then stopped looking. Or that rug which has definitely seen better days. It's all about subtle changes that freshen up the world you live in (which right now, is entirely our homes!)
So let's dive into the nitty/gritty with some strong 2020 Autumn trends.
THE MODERN EXPRESSIONIST
We've seen this trend time & time again, but it continues to renew & evolve. The modern expressionist look is all about abstract energy. Think bold, punchy colours such as ochre, navy, mustard & burnt orange - punctuated with black & white to add contrast.
We're seeing hand drawn sketches & geometric patterns in furnishing such as rugs, cushions, throws & curtains. Large abstract artworks are used to make a statement, particularly when positioned against deep, contrasting walls.
We are also seeing the Art deco revival by mixing brass and bronze tones with earthy greens, oranges and blues and combining them with organic shapes and natural materials such as stone. The contrast creates a glamorous and luxe look that is set to wow all who step into your home.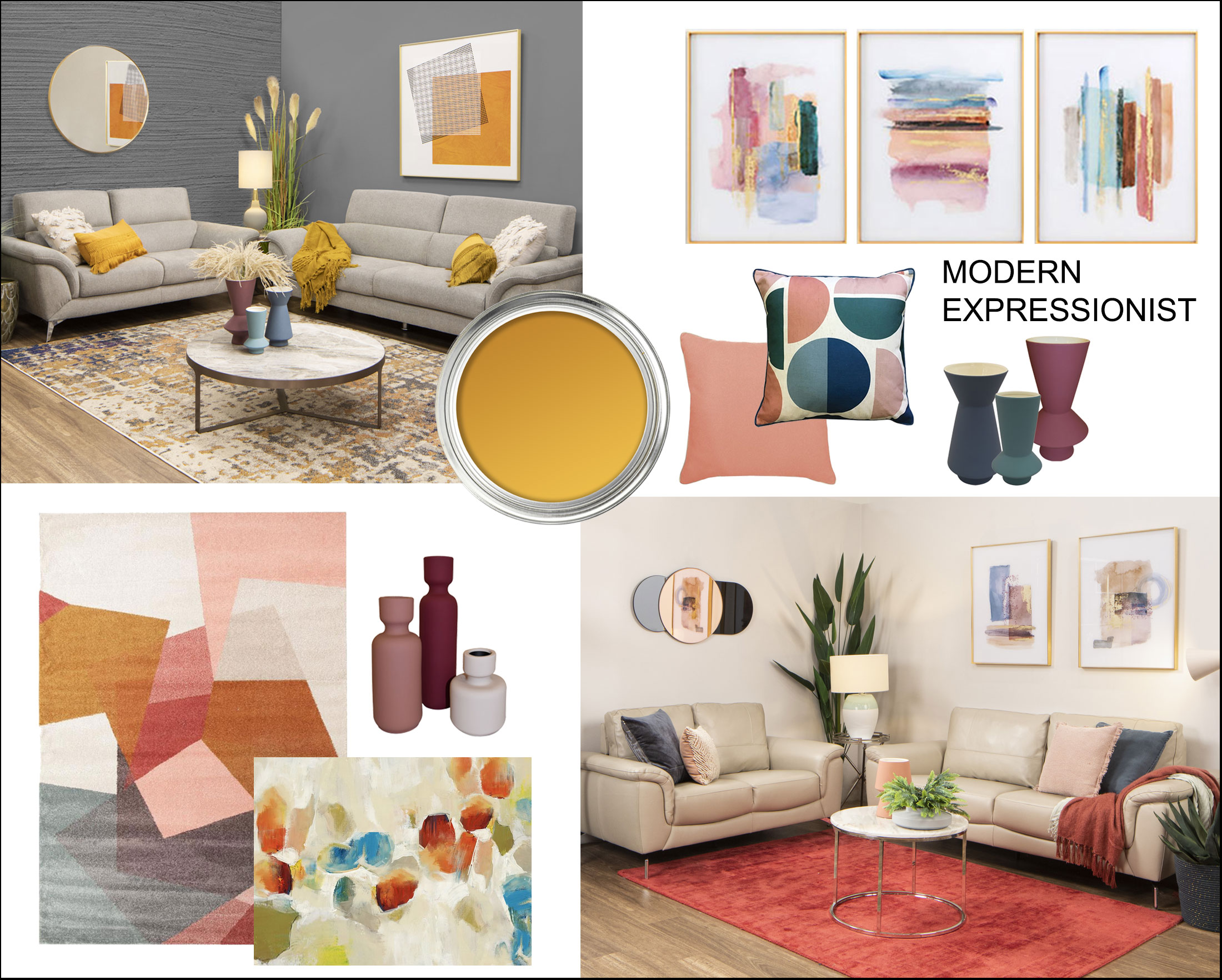 A NOD TO NATURE
This look is all about creating a soothing, comfortable living space, with a focus on sustainability. With its roots in the Danish design concept of 'hygge' (creating a cosy ambience which creates feelings of wellness & contentment), this style is about creating a warm & inviting space to come home to, to relax & regenerate in.
However, what is very clear about Autumn 2020 is that we are stepping away from a minimalist vibe of all neutral tones & no contrast & going for more colour & a nod to nature. You'll see soft greens & blues creeping into the colour palette, contrasted against charcoals & neutrals.
This interior style is about being thoughtful & selective when it comes to furniture & homewares purchases. Choosing to invest in pieces that will last, rather than passing trends.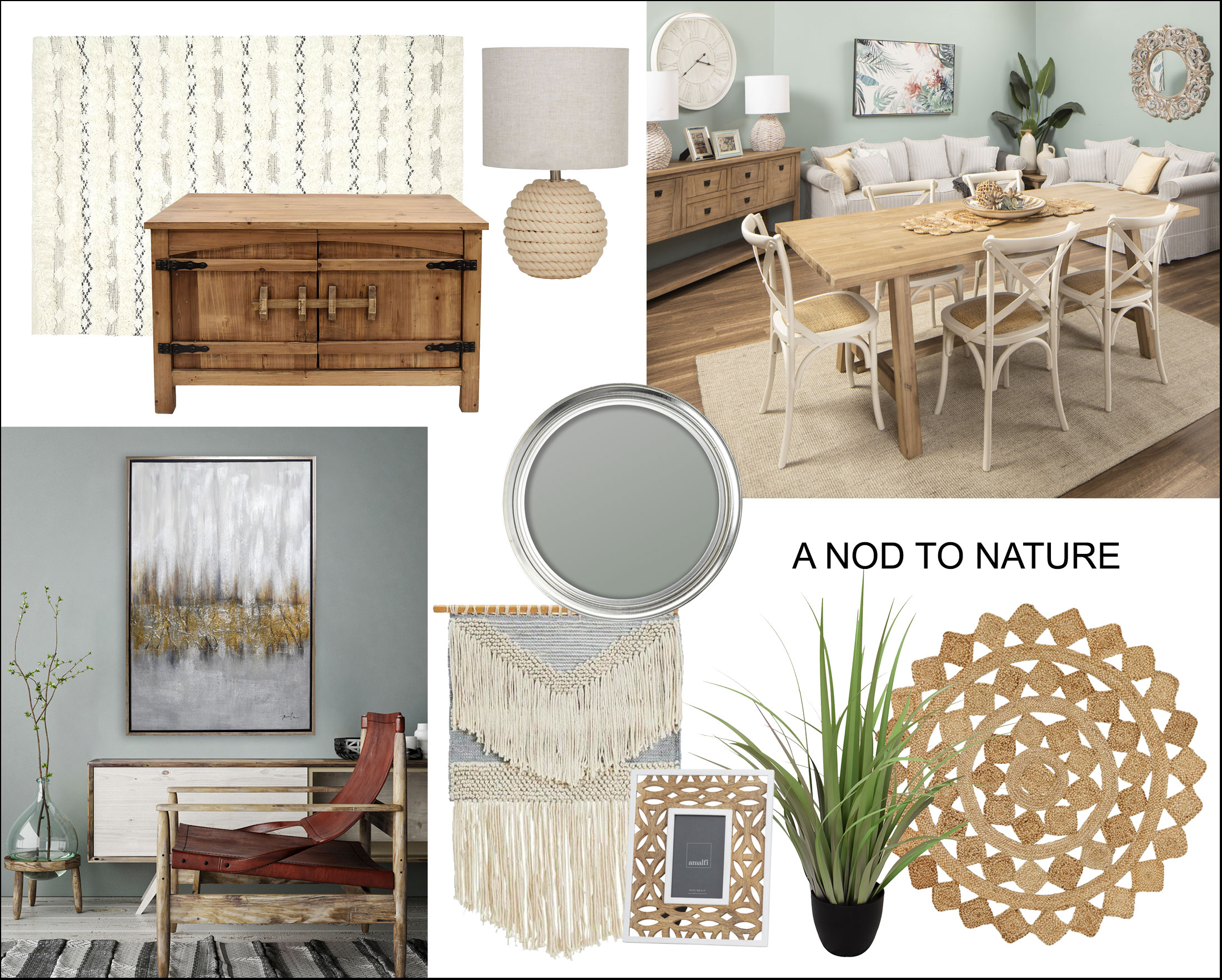 LUXE GLAMOUR
Velvet moved into our minds & our hearts several seasons ago & for interiors, it is here to stay. What started with a velvet accent chair has moved into sofas, soft furnishings & dining chairs. When paired with shiny gold & natural marble, this look is all about luxury & opulence.
Key colours: fawn, grey, forest green & raspberry.
Key materials: velvet, brass, stainless steel, marble, faux fur, leather & smoked glass.
We're also seeing the revival of cocktail hour with bar carts being a key furniture piece!